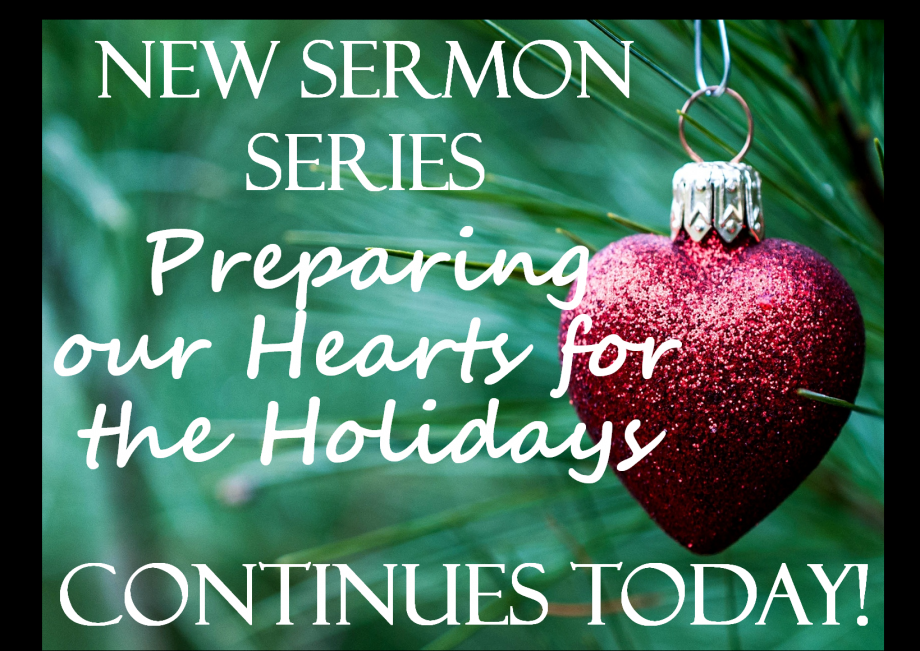 "Adios to Anger"
PREPARING YOUR HEART FOR THE HOLIDAYS - #3
11-16-17

Ephesians 4:31-32; "Banish bitterness, rage and anger, shouting and slander, and any and all malicious thoughts—these are poison. 32 Instead, be kind and compassionate. Graciously forgive one another 'just as' God has forgiven you through the Anointed, our Liberating King.

"GREEK-GEEKS" WORD OF THE WEEK': J
'BANISH' – ekballo (ek-bal'-lo)= "get it off of you"

Adios to Anger:
1) Get it (anger) OFF of you!

"ANGER" from FOUR BIBLICAL viewpoints.
1) SUDDEN anger. (Proverbs 14:17; Proverbs 15:18;
Proverbs 18:13)
2) VENGEFUL anger. (I Thess. 5:15)
3) CHERISHED anger. (1 Corinthians 13:5; Eph. 4:27)
4) JUSTIFIABLE anger. (Eph. 4:26)
GOD'S SOLUTION TO ANGER….
Ephesians 4:31-32; "… Graciously forgive one another 'just as' God has forgiven you through the Anointed..."

IT ALL COMES DOWN TO TWO WORDS…..
2) Remember….. "JUST AS"!
3) Make the decision to CANCEL the debt!

It comes down to…..
THE CROSS AND YOU!
"Forgive as He has forgiven you…."
"Farewell to Jealousy!"
James 4:1-3;1:17
Preparing Our Hearts For The Holidays #2
The Human heart
We need a CHANGE of heart
God is the ONLY ONE who HEALS the heart
Happiness is the overflow of a HEALTHY HEART
Jealousy – is GOD owes you
Two people want their way- ONLY ONE will get it
Covet- constantly trying to meet a need that CAN'T EVER seem to be met.
Bring Your DESIRES to Jesus.

James 4:2…You do not have because YOU DO NOT ASK GOD. 3 When you ask, you do not receive, because you ask with wrong motives, that you may spend what you get on your pleasures.
God loves you TOO MUCH to give you EVERYTHING you ask for
Develop a New HABIT…
CELEBRATING when others get good things
* REJOICE with those who REJOICE Rom. 12:15
* LOVE our neighbor as OURSELVES
Sit In the CHAIR OF THANKFULNESS
* TRUE GRATITUDE and jealousy can't share the same
HEART
*Lord every GOOD GIFT comes from you. James 1:17* give thanks in ALL CIRCUMSTANCES; for this is
God's will for you in Christ Jesus. 1 Thess. 5:18
* COUNT your blessings this week
"BYE-BYE GUILT"
Preparing Your Heart For the Holidays -1
11-12-17
Psalm 32:5; "Then I confessed my sins to you and didn't hide my guilt. I said, "I will confess my sins to the Lord," and you forgave my guilt."
Your heart is under ASSAULT!
Prov. 4:23; "Above all else, WATCH over your heart; diligently GUARD it because from a sincere and pure heart come the good and noble things of life."
Ezekiel 36:26; "I will plant a NEW HEART and new spirit inside of you. I will take out your stubborn, STONY HEART and give you a willing, tender heart of flesh."
"God, I don't want the 'sin-confession' game, I want
CHANGE
!"
Give God full ACCESS. Psalm 139:23-24;
Why is it critical to FACE the ENEMY of GUILT?
GUILT chips away at your SELF-RESPECT
GUILT separates you from healthy RELATIONSHIPS
GUILT separates you from INTIMACY with God.
GUILT damages your PHYSICAL body.
Discern the SOURCE of the GUILT.
THE "TRUTH TEST":
1. Have I already confessed this sin?
2. When did I confess it?
3. Was I truly sincere?
4. Have I been completely honest with God?
Take the steps to FREEDOM from guilt.
1) ACKNOWLEDGE – 'Guilt over confessed sin is your refusal to allow Jesus Christ to make full payment.'
2) ACCEPT - the "new heart and new spirit" inside of you and allow God to "take out your stubborn, stony heart"!
3) LIVE by the FACTS, not the feelings! Psalm 103:12
4) Don't IGNORE the guilt and condemnation! Romans 8:1
5) Make RESTITUTION where possible!
Guilt is about "OWING" someone something.
If the Holy Spirit whispers to you– DO IT!
Hearing Jesus in the Pain
Job 6:10
…
joy amid unsparing pain… I have not denied or hidden the words of the Holy One. Job 6:10
God wants to give HIS JOY in the midst of pain…
Calad- jumping for joy but dancing on DISAPPOINTMENT.
LEAN on God
I trust your WORD…and LISTEN
Remember Heaven is a PAIN-FREE ZONE
Trials become our PLATFORM – to HELP others
Contend, FIGHT for Hope
Fight the feeling of HOPELESSNESS

1 Ti. 6:12 the GOOD FIGHT of the faith. Take HOLD of the eternal life to which you were called when you made your good CONFESSION in the presence of many witnesses.

Acts 2:26… I've pitched my tent in the LAND OF HOPE. (msg)
God is contending FOR YOU
Worship, WORSHIP, Worship
Job 1:20 At this, Job got up and tore his robe and shaved his head. Then he fell to the ground in WORSHIP
Don't let what's wrong with you keep you from worshipping WHAT'S RIGHT WITH GOD.
Worship Him with all of you- LOOK to Him, My LIPS will praise you, I lift my HANDS, I THINK of you.
DECLARE the truth
________________________________________________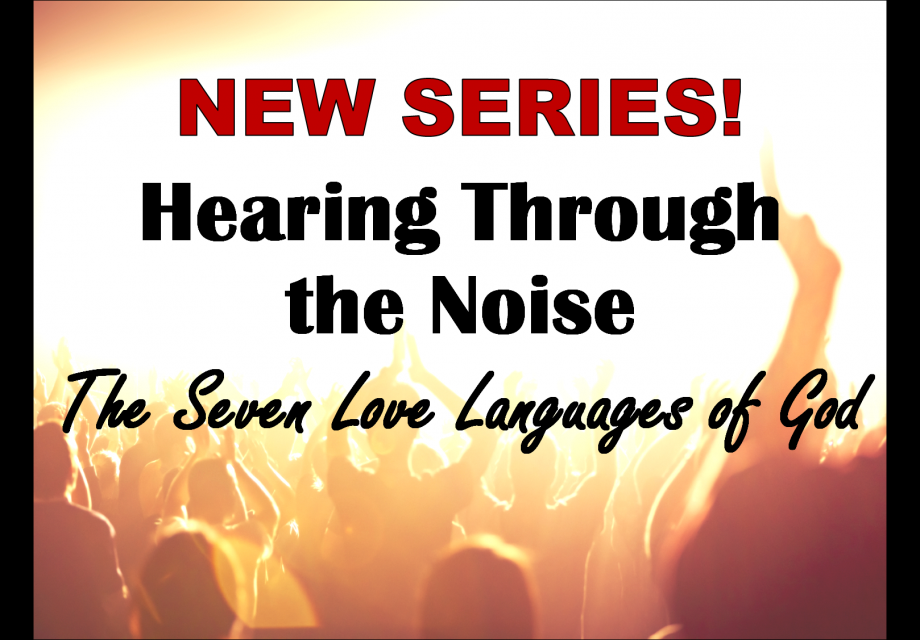 'THE DIVINE DOMINO EFFECT'
Hearing God Through The Noise - #7
October 29, 2017
ISAIAH 30:21 "Your EARS WILL HEAR a word behind you, "This is the way, walk in it," whenever you turn to the right or to the left."

John 14:26; "But the Helper, the Holy Spirit, whom the Father will send in my name, He will TEACH you all things and bring to your REMEMBERANCE all that I have said to you."

ACT – "Actual CHANGE Transpires"!
ANTICIPATE God is up to something!
CLEAR your mind to hear His prompting!
TRAIN yourself to MOVE! (Just DO it!)
1) ANTICIPATE God is up to something!
God is in the business of strategically positioning you in the right place at the right time.
2) CLEAR your mind to hear His prompting!
PERCEIVE His Promptings!
Supernatural synchronicities = "Divine APPOINTMENTS"

3) TRAIN yourself to MOVE! (Just DO it!)
*Two words for "time" in the N.T.
- "chronos" refers to 'clock time' or 'calendar time'
- "kairos" refers to the right, critical or OPPORTUNE moment.

Kick "FEAR" to the curb in your "Spirit-led" prompted moments!
Turn an ORDINARY day into a GOD-ADVENTURE of a life-time!
When we ACT on God's promptings (kairos) moments, we affect CHRONO moments – the FUTURE of others.
God Speaks Through People
10-22-17 ● Heb. 12:1
…such a great cloud of witnesses… Heb. 12:1
I AM A WITNESS
Acts 1:8 But YOU will receive power when the Holy Spirit comes on you; and you will be my WITNESSES …
2 Tim. 1:7 For the Spirit God gave us does not make us TIMID, but gives us power, LOVE and self-discipline.

I HAVE HURTS, HANG UPS AND EXCUSES
The gospel stands in BROKENNESS and humility as much as in our wholeness.
Be PRESENT with others and SUFFER with them.
I NEED TO BE FULL OF GRACE AND TRUTH
Give a PROPHETIC ear
A word that strengthens, ENCOURAGES, and comforts
Words that restore, GENTLE, and humble
See people as who they can BECOME
There is power in ONE WORD
LISTEN HARD and long before you dish out advice
We're human so allow for margin of ERROR
Always encourage before you CORRECT
"The Dream-Giver"
HEARING THRU THE NOISE- #4
10-15-17
"God says: In the last days, I will POUR out my spirit on all kinds of people. Your sons and daughters will prophesy. Your young men will see VISIONS, and your old men will dream DREAMS."
Acts 2:17
PURPOSE OF "DREAMS and VISIONS":
1) He uses them to REVEAL things to you.
2) He uses them to INSPIRE you! (motivate)
3) He uses them to WARN you.
Job 33:16-18; "In a dream..God opens their ears and impresses them with warnings to turn them back from something bad they're planning, from some reckless choice…"
4) He uses them to CORRECT you.
Heb. 4:12; "For the Word of God is alive and active…it judges the thoughts and attitudes of the heart."
5) He uses them to ENCOURAGE you.
6) He uses them to COMFORT you.
PS. 147:3;" He heals the brokenhearted and bandages their wounds."
7) He uses them to HEAL you.
8) He uses them to GUIDE you.

TESTING YOUR DREAMS/VISIONS:
1) Does it CONTRADICT the Word of God?
2) Does it lead me to a CLOSER walk with God?
3) Does it stand the test of COUNSEL?

Today's 'fun' words:
Hebrew- VISION: "chizzayown"-"a revelation, or an expectation by dream" Greek- VISION : "horasis"- "the act of gazing at something or an inspired appearance."
Hearing God's Voice Through:
OPEN AND CLOSED DOORS
Hearing Through the Noise - Series #3
Rev. 3:8
October 8, 2017
…I have placed before you an open door…Rev. 3:8

Doors – God speaking to us through CIRCUMSTANCES in our lives.

Four ingredients in discerning God's will
SCRIPTURE test
The PEACE test
WISE GODLY COUNSEL test
EXCITEMENT Test

Rev. 3:7 "He who has the key of David, He who opens and no one shuts, and shuts and no one opens":
JESUS opens and closes Doors!

Col. 4:3 And pray for us, too, that God may open a door for our message…
1 Cor. 16:9…a great door for effective work has opened to me, and there are many who oppose me.
Open Doors are OPPORTUNITIES for God to USE YOU (1 Cor.16:6-9)
Open doors lead us to HEARTS THAT ARE OPEN ( 1 Cor. 16:9)
An Open Door doesn't mean it's EASY
The Holy Spirit closes doors with a CHECK in our Spirit- uneasiness, lack of peace (Acts 16:7)
Closed doors- PROTECT us, redirect us, are less than GOD'S BEST
Following through open doors ultimately brings UNSPEAKABLE JOY.
"HOLY DESIRE"
"HEARING BEYOND THE NOISE" – PART 2
10-1-17 (YOUTH SERVICE)

Psalm 37:4 "DELIGHT yourself in the Lord; And He will give you the DESIRES of your heart."
"Delight" means – "extreme SATISFACTION."

C. S. Lewis puts it like this: "We are half-hearted creatures, fooling about with drink and sex and ambition when infinite JOY is offered us." He goes on to say, "Our Lord finds our "desires" not too strong, BUT TOO WEAK."

1) ENJOY God appointed desires!

2) GO AFTER GOD appointed DESIRES!

"DESIRE" = "to LONG for; or wish for…to have great ENTHUSIASM for… it means to "HUNGER for"

3) Make God the LOUDEST voice!

Psalm 16:11; "You will TEACH me how to live a holy life. Being with you will FILL me with joy; at your right hand I will find PLEASURE forever."

Romans 12:2; "Don't copy the behavior and customs of this world, but let God TRANSORM you into a new person by CHANGING the way you think. Then you will learn to know God's will for you, which is GOOD and PLEASING and perfect."

Is He your "One and Only"?
Hearing God's Voice through Scripture
2 Tim. 3:16 ● September 24, 2017
2 Tim. 3:16 All Scripture is God-breathed
God's voice usually is a WHISPER (1 Kings 19:12)
He makes your HEART BURN (Luke 24:37)
When you read the scripture…
DEEPLY DESIRE to Hear the LORD'S VOICE not just Bible knowledge
Speak Lord for your servant is LISTENING (1 Sam. 3:10)
Bible Knowledge alone Puffs up- Just leads us to PRIDE
The Bible is MISUSED and ABUSED
2 Tim 2:15 Be diligent to present yourself approved to God, a worker who does not need to be ashamed, rightly dividing the word of truth.
Ask the HOLY SPIRIT to teach you
Holy Scripture – HOLY SPIRIT = Lifeless religion/ LEGALISM
Holy Spirit QUICKEN me – arouse, INVIGORATE restore to life
John 14:26 But the Helper, the Holy Spirit, whom the Father will send in My name, He will TEACH you all things, and bring to your REMEMBERANCE all things that I said to you.
HIDE the word in your Heart and DO IT.
Ps. 119:11 Your word I have HIDDEN in my heart,
That I might not sin against You.
Hidden- TREASURED, stored up, CHERISHED
Heb 4:12- For the word of God is alive and active. Sharper than any double-edged sword, it penetrates even to dividing soul and spirit, joints and marrow; it judges the thoughts and ATTITUDES OF THE HEART
The Bible comes alive when we ACTIVELY OBEY it.
Reading for depth is like a meal
Reading – 1st bite
Meditating- chewing
Praying- Savoring
Contemplating- digesting, absorbing
Doing- getting up and living it
Hearing Through the Noise!
Is. 55:3 ● September 17, 2017
Shut out the NOISE – and LISTEN!
"Listen closely…." Is. 55:3 (a)
"Be still and know that He is God"….in Ps. 46:10
"Be
STILL and know that He is God"….in Ps. 46:10
Move in CLOSER!
"Listen CLOSELY, and come even CLOSER." Isaiah 55:3
1 Kings 19:11-12: "Then he was told, "Go, stand on the mountain at attention before God. God will pass by." A hurricane wind ripped through the mountains and shattered the rocks before God, but God wasn't to be found in the wind; after the wind an earthquake, but God wasn't in the earthquake; and after the earthquake fire, but God wasn't in the fire; and after the fire a gentle and QUIET WHISPER…"
Don't
LIMIT
HOW
God will speak. You will have to let GO of your human hearing and GO SPIRITUAL!
STAY until you hear!
My words will give life, for I will make a covenant with you that CANNOT be broken, a promise Of My enduring PRESENCE and support…
I'M NOT LEAVING UNTIL I HEAR!
He is still speaking even when we are not listening so why miss out on what He's saying.
"Com'in Home"
Gen. 32 ● 9-10-17
Where ever you're at in your journey, Jesus is calling you closer; to your next step- just as He called Jacob "come home".
If You're Com'in home…
It Takes PERSISTENCE- DON'T LET GO
Gen. 32:26… "I will not let You go unless You bless me!"
I will not go without YOUR PRESENCE
Spirit Fall FRESH on me
The Lord BLESSED THEM there v.29
2.
Expect LASTING CHANGE
Gen. 32:28 …"Your name shall no longer be called Jacob, but Israel;
Jacob- deceiver, POSER, one who MANIPULATES
Israel- The man who wrestled God AND WON!
Be my LORD, Change my name – my REPUTATION my CHARACTER
God put a LIMP in his step –Went from full being proud to being HUMBLE
You'll SEE JESUS
Gen. 32:30-… I have seen God face to face
KAVA- waiting hopefully, expectant, SEEKING
KAVA- ACTIVELY EXPERIENCING His presence because we're focused on Him
Gen. 33:4 But Esau ran to meet Jacob and embraced him; he threw his arms around his neck and kissed him. And they wept.
Gen.33:10 …For to see your face is like seeing the face of God, now that you have
RECEIVED ME
favorably.
In com'in home we realize how much we need the FAMILY OF GOD.
"I'm Headed Somewhere!"
Acts 9 ● Sept. 3, 2017
Six positions on your journey "to" and "with" Jesus:
Position One: SEEKER. Acts 9:3-5;
Position Two: New BELIEVER! Acts 9:18, Acts 9:20
Position Three: HUNGRY to LEARN More of "WHO" Jesus Christ (our New Father) is! Acts 9:19, 20, 22 , 28, Acts 13:9
Position Four: Growing DESIRE to be more LIKE Him.
You begin to see life….
"OUTWARD" vs. "inward"… "OTHERS" vs. "self"….
"SERVE" vs. "being served". Acts 13:3
Position Five: You begin bringing OTHERS into the family.
Position Six: You find yourself TEACHING (discipling) others.

Enemies plot to take the Christ follower "BACK"!
6- Jesus is your EVERYTHING. You KNOW where you are headed.
ROMANS 12: 1-2 ;Colossians 3:1-2
5- The intense 'INTEREST' in Him begins to FADE a bit.
4- The "ME" in you begins to grow
bigger.
It's a "SHARED" life.
Add Jesus to your day when it's CONVENIENT.
3- Increased 'NUMBNESS' settles over your heart.
His voice is DISTANT
Begin to WITHDRAW from other believers fellowship.
You've become an 'OBSERVER' instead of a 'participant'.
You add a LITTLE bit of Jesus where you can.
2- A SEPARATION happens.
1- Your heart has 'INDEPENDENT' when it comes to God.
The devil is happy…YOU ARE ON YOUR OWN.
Tell the enemy… "I'm onto your plot!... I'm staying in the Shadow of Jesus! You can't have me, my marriage, my kids, my neighborhood or my church! I AM TAKING STEPS OF ACTION TO GROW DEEPER IN JESUS CHRIST! I know where I am headed!!
"Start a Fire!"
Luke 24:32 ● July 30, 2017
"Were not our hearts burning within us…?" Luke 24:32
Make Jesus the CENTER OF YOUR LIFE
Fellowship- CLOSE CHRISTIAN FRIENDS
TALKING to God-
Jesus talking to them through the SCRIPTURE
Going to CHURCH
Sharing YOUR STORY
2 Tim. 1:6 That is why I remind you to FAN INTO FLAME the gracious gift of God, [that inner fire—the special endowment] which is in you through the laying on of my hands…AMP
2 Tim. 1:6 Therefore I remind you to STIR UP the gift of God which is in you…
2 Tim. 1:7 For THE SPIRIT God gave us does not make us timid, but gives us power, love and self-discipline.
Top Three Passion killers
An UNBALANCED SCHEDULE
An UNCONFESSED SIN
An UNRESOLVED CONFLICT
Job 5:2
RESENTMENT
destroys the fool and
JEALOUSY
kills the simple.
Job 18:4 You are only hurting yourself with your
ANGER
.
Remember how God feels about you
John 15:13 GREATER LOVE HAS NO ONE than this: to lay down one's life for one's friends.
"Significance of Your Story"
Pastor Christina Wagaman
Jeremiah 1:4-10,12-19 NLT
July 23, 2017
1. Your life is to be SET APART.
2. Your life is to be SHARED.
3. Your life is to be SENT.
(Proverbs 16:9NLT)
"Why Chase A Lion On A Snowy Day?"
2 Samuel 23:20 ● 7-16-17


2 Samuel 23:20; "….on a snowy day, he (Benaiah) chased a lion down into a pit and killed it."
"CHASING LIONS" - metaphor for facing your fears, taking risks, overcoming adversity and conquering the biggest obstacles in your life.
THREE "F's":
"I am moving "FORWARD"…
toward my " FOE"…(opposition, competition or enemy)
without any " FEAR".
Why chase a lion on a snowy day? - Because playing it safe is over -rated!
1) Quit playing it SAFE – go CHASE a lion!
"…on a snowy day, he CHASED a lion …"
2 Cor. 3:12; "Since this new way gives us such CONFIDENCE, we can be very BOLD."
2) FIGHT the lion when you catch him!
"…on a snowy day, he chased a lion DOWN into a PIT…"
Ephesians 3:20; "With God's POWER working in us, God can do much, much more than ANYTHING we can ask or imagine."
The impossible is an ILLUSION!
The impossible is also TEMPORARY, when God gets involved!
"You rob Jesus of his glory, when you don't have the guts to step out on faith and chase a lion!" Mark Batterson
3) KILL the lion!
"…on a snowy day, he chased a lion down into a pit and KILLED it…"
I Cor. 3:16; " Don't you know that you are God's temple and that God's SPIRIT lives in you?"
God LOVES long shots!
Roar back……"Hold on… I CHASE LIONS, FIGHT THEM and EAT THEM FOR LUNCH!"
Are you playing it safe?Be a "Benaiah" in 2017!
I'm Free
John 8:31-36
So if the Son sets you free, you will be free indeed. John 8:36
Freedom comes in two flavors
Sin- John 8:34 Jesus answered, "… everyone who practices sin habitually is a SLAVE OF SIN.
Fear- The Spirit you received does not make you slaves, so that you LIVE IN FEAR again; rather, the Spirit you received brought about your adoption to sonship. And by him we cry, "Abba, Father." Rom. 8:15
Freedom TO BE all that God has designed for you.
HOLD to My TEACHING
Hold- STICK WITH , obey, LIVE BY, continue in
SURRENDER-the way to experience freedom
Freedom is not INDEPENDENCE
Then you're REALLY MY DISCIPLE-
REPLACE your bad habits with "JESUS habits"
When SIN becomes a HABIT we lose FREEDOM
Don't DENY- CONFESS
Depend completely on GOD'S POWER- will power will not work.
Get a NEW SET of HABITS
MEET TOGETHER regularly for support, accountability and teaching.
3.THE TRUTH sets you FREE
The truth is I need Jesus LOVE and POWER and WORD in my life.
To know- by EXPERIENCE not just a head knowledge.
Ps. 119:45 I will walk about in FREEDOM, for I have sought out your PRECEPTS .
James 1:25 But whoever looks INTENTLY into the perfect law that gives FREEDOM, and continues in it--not forgetting what they have heard, but doing it--they will be blessed in what they do.
Experiencing Jesus 24/7
John 15:1-17 ● June 25, 2017
I am the vine; you are the branches. If you remain in me and I in you, you will bear much fruit; apart from me you can do nothing. John 15:5
Remain in me- To have an INTIMATELY CLOSE relationship to God, MOMENT BY MOMENT.
God wants to make EVERY MOMENT of my life GLORIOUS in His PRESENCE.
Our goal is not to SIN LESS but to ABIDE MORE.
Ps. 16:8 I have SET the Lord ALWAYS before me…
2 Cor. 10:5…TAKE CAPTIVE every thought to make it obedient to Christ.
HURRY is the greatest killer of experiencing God's presence
Expect to be PRUNED- so you will be more FRUITFUL. (v.2)
Apart from me you can do NOTHING (v.5)
TALKING with God and reading HIS WORD is paramount. (v.7)
LOVE as I have loved you (v. 9-12)
JOY is made COMPLETE while remaining in Jesus (v.11)
When you remain in Him you have a totally NEW FRIENDSHIP (v. 14-15)
"HERE COME THE WONDERS!"
June 18, 2017
Joshua 3:1-5
WHERE GOD GOES…..GO!!
Joshua 3: 3; "…..When you see the Levitical priests carrying the Ark of the Covenant of the
Lord
your God, MOVE OUT from your positions and FOLLOW them.
GOD IS TAKING YOU TO 'NEW' PLACES!
Joshua 3:4; "Since you have NEVER traveled THIS WAY before, they will guide you…"
PREPARE YOURSELVES!
Joshua 3:5; "Then Joshua told the people, "Purify yourselves…"
The Hebrew word for 'purify' means "to prepare, to dedicate, to be hallowed, to be holy, to be separate or set apart."
HERE COME THE WONDERS!
Joshua 3:5 (b) "… for tomorrow the
Lord
will do GREAT WONDERS among you."
Joshua 1:5-6 "5 No one will be able to stand against you as long as you live. For I will be with you as I was with Moses. I will not fail you or abandon you.
6
"Be strong and courageous…"
What 'wonders' are you looking for?

Knowing…. NO ONE can stand against you and succeed,

GOD HIMSELF will be with you….

GOD HIMSELF will not fail you…

GOD HIMSELF will not abandon you….
"Where Have You Come From and Where Are You Going?"
Genesis 16 ● June 11, 2017
2 So Sarai said to Abram, "Now behold, the Lord has PREVENTED me from BEARING CHILDREN.

4 He went in to Hagar, and she CONCEIVED; and when she saw that she had conceived, her mistress was DESPISED in her sight.

5And Sarai said to Abram, "May the WRONG done me be upon you. I gave my maid into your arms, but when she saw that she had conceived, I was despised in her sight. May the Lord JUDGE between you and me."

7 Now the angel of the Lord FOUND her by a spring of water in the WILDERNESS, by the spring on the way to Shur.
8 He said, "Hagar, Sarai's maid, where have you COME FROM and where are you GOING?"

9 Then the angel of the Lord said to her, "Return to your mistress, and SUBMIT yourself to her AUTHORITY."

10 Moreover, the angel of the Lord said to her, "I will GREATLY MULTIPLY your descendants so that they will be too many to count."

11 The angel of the Lord said to her further, "Behold, you are with child, And you will bear a son; And you shall call his name ISHMAEL, The Lord has heard. Because the Lord has given heed to your AFFLICTION

13 Then she called the name of the Lord who spoke to her, "You are a GOD WHO SEES."

15 So Hagar bore Abram a SON; and Abram CALLED the name of his son, whom Hagar bore, ISHMAEL.
"Who Am I?"
John 1:12 ● 6-4-17
Guest Pastor Josh Renschler
1. I AM FREE. Romans 8:2-6 - We are free from the Penalty of Death owed by our Sins because in HIS Love, He payed that Penalty in FULL. We have within us the power to break free from the chains of addiction and sin which once drove our thoughts and actions. By tuning into the Holy Spirit we get: Love, Joy, Peace, Kindness, Goodness, Faithfulness, Gentleness and Self-Control. (Galatians 5:22-23)
2. I AM HOLY . Ephesians 1:4 Definition- holy adjective- dedicated or consecrated to God, Sacred. Before the Foundation of the World, we were set apart to be God's people, we are Holy to Him because He who created us and modeled us after His Image and Likeness is Holy- We are His! (Leviticus 20:26)
3. I AM ACCEPTED . Ephesians 1:6 - Nothing we can earn or achieve; but by GRACE and the redemptive work of Jesus Christ, we are ACCEPTED by God.
4. I AM POWERFUL . 2 Timothy 1:7 - God has given us a spirit of POWER and love and sound mind. The Spirit of God lives within us, a Spirit of POWER (Acts 1:8, Luke 4:14)
5. I AM LOVABLE . Romans 8:38,39 - NOTHING, I repeat, NOTHING can separate us from the Love of God. God's Love is a perfect Love that does not have to be earned, it is unconditional and it is OURS. (Romans 5:8)
6. I AM CONNECTED . Galatians 3:26 - We are ALL God's Children, All who are saved are a part of Christ's Body. (1 Corinthians 12:27)
7. I AM ROYALTY . Romans 8:15 - We have been Adopted by God, that we may call Him Father!! We are now considered as citizens with the Saints and are members of the house of God!! (Ephesians 2:19)
COMPLETE THE CYCLE OF FORGIVENESS
5-28-17
Eph. 4:32, Matt. 18:21-35

Ephesians 4:32; "Be kind and loving to each other, and FORGIVE each other 'JUST AS' God forgave you in Christ."

Four Phases to complete the cycle of forgiveness:
PHASE ONE:
Be HONEST- Pinpoint "WHO" you are angry with!
·Don't assume you've forgiven someone just because you've 'put it BEHIND you'. *who do you have imaginary conversations with?
·Attempting to 'forget' a debt isn't the same as 'REMOVING' it.
·No one is too spiritual to have an OFFENSE
·Forgiveness is a gift from one UNDESERVING soul to another.
·PERSPECTIVE is everything – view forgiveness from the perspective of the CROSS.
PHASE TWO:
Determine "WHAT" was taken from you?
·What do they OWE you?
·Forgive SPECIFICALLY vs. generally.
"GENERAL forgiveness" doesn't heal "SPECIFIC" hurts." Andy Stanley
PHASE THREE:
NULLIFY the debt!
·Bring it to a ZERO balance owing.
·Jesus CANCELED your debt of sin on the cross
PHASE FOUR:
ERASE the debt!
·Forgiving someone doesn't erase our MEMORIES.
·DAILY decide. . . they don't owe you anymore!
·INSTEAD. . .RESTATE your declaration… "you released them from that debt. They don't owe you anymore."
What if Jesus Lived at My House?
THE CASE FOR CHRIST SERMON SERIES #4
Mt. 5:13-16

Salt- Make people THIRST for God. Help people TASTE GODLINESS.
Shine- His GRACE, love, hope and COMPASSION
Be MOTIVATED, AVAILABLE and PRAYERFUL
"What if Jesus lived in my house?"
He would...
TALK TO THE FATHER about your neighbors
Mark 1:35
Very early in the morning, while it was still dark, Jesus got up, left the house and went off to a solitary place, where HE PRAYED.
James 5:16…The prayer of a RIGHTEOUS person is POWERFUL and EFFECTIVE.
"When I pray, COINCIDENCES happen. When I stop, they DON'T."
- Mother Teresa
2. Let the neighbors know the door is ALWAYS OPEN for QUESTIONS
1 Peter 3:15 says, "Always be prepared to give an answer to everyone who asks you to give the reason for the hope that you have. But do this with GENTLENESS and RESPECT."
​​​​​​​
Don't DEBATE but DIALOGUE. It's about discussions, FRIENDSHIPS, and relationships.
LIVE OUT an AUTHENTIC faith.
Matthew 5:16: "Let your light shine before others, that they may see your GOOD DEEDS and glorify your Father in heaven."
Good- WINSOME, attractive and AUTHENTIC
Turn up your COMPASSION RADAR.
A healthy soul flourishes in GOD'S PRESENCE and becomes a GIFT to the world around them.
"I just met a whole bunch of people who were like JESUS."
Going deeper:
What touches your heart the deepest from this lesson?
Make a list of ways you could be a better friend to your nonbelieving friends and contacts. What keeps you from doing it?
Which scripture spoke you the most?
How do you feel about the final statement on the outline?
It's A Mom's Job: "Wake Up"!
MOTHER'S DAY
MAY 14, 2017
Moms' turn the….
1) LIGHT On!
LIGHTS ON – WAKE UP!
God LOVES you. He is PURSUING you. The purpose for your life is to SERVE Him.
2 Cor. 4:6; "It started when God said, "Light up the DARKNESS!" and our lives filled up with light as we saw and understood God in the face of Christ, all bright and beautiful.
Ephesians 5:13; "But the light makes all things easy to see,
14 and everything that is made easy to see can become light. This is why it is said: "WAKE UP, sleeper! Rise from death, and Christ will shine on you."
●
Don't "Glide –
SLIDE
– hide" – through life, TURN THE LIGHT ON!
Mom's tell you to….
2) SHAKE it Off!!
Romans 13:11-14; "So we should STOP doing things that belong to darkness and TAKE UP the weapons used for fighting in the light…14But CLOTHE yourselves with the Lord Jesus Christ…"
"Shake it Off". . . requires ACTION:
1. STOP
2. TAKE up
3. CLOTHE yourself
It's a mom's job to tell you to…
3) Go LIVE!
Make a STATEMENT
Make a DIFFERENCE
Enjoy the JOURNEY
Psalm 16:1; "You will show me the way of LIFE.
Psalm 146:2 "I will praise the Lord as long as I live;
"You are the light of the world- like a city on a mountain, glowing in the night for all to see. Don't hide your light under a basket! Instead, put it on a stand and let it shine for all. In the same way, let your good deeds shine out for all to see, so that everyone will praise your heavenly Father." Matthew 5:14-16



If you have many questions and a few doubts about Christianity, The Case For Christ sermon series is for you. During this four week series, you will find the answers to those questions and maybe more!
"Embracing the Truth"
THE CASE FOR CHRIST - SERIES #3
I will come back and take you to be with me that you also may be where I am. John 14:3
I PAY My Own Way
It's already been PAID IN FULL
The PRICE IS TOO HIGH
The PERFORMANCE Treadmill
EMBRACE the truth of God's FREE GIFT
Surrender your STRIVING
The WAY of GRATITUDE
John 4:10 "This is
LOVE
:
not that we loved God, but that he loved us and
SENT HIS SON AS
an atoning sacrifice for our sins."
Check your MOTIVES in serving Christ
Revel and relax in HIS GRACE.
"I will give you Rest"- "to REVIVE or RESTORE." Mt 11:28
EMBRACE THE TRUTH
Romans 3:23: "For all have sinned and fall short of the glory of God."
Romans 6:23: "The wages of sin is death, but the gift of God is eternal life in Christ Jesus our Lord."
Romans 10:13: "Everyone who calls on the name of the Lord will be saved."
Going Deeper:
Read John 14:2-6; Mt. 11:28-30; 1 Peter 3:18. What truths can you more deeply embrace.
Can you think of a time in your life when you focused too much on paying your way or performance?
What does it mean to you to "revel and relax in His grace"?
CRITICAL TRUTHS AND INDISPUTABLE FACTS!
The Case For Christ- 2
April 30, 2017
We need "FAITH" to experience a LIVING relationship with Jesus Christ, but He never tells us not to use our BRAIN!
"The first thing I did was place before you what was placed so emphatically before me: that the Messiah DIED for our sins, exactly as Scripture tells it; that he was BURIED; that he was RAISED FROM DEATH. 1 Corinthians 15:3-8
I Cor. 15:13-15; "If there's no RESURRECTION, there's no living Christ. And face it—if there's no resurrection for Christ, EVERYTHING we've told you is smoke and mirrors,
1 COR. 15:51
"…but we will all be changed, in a moment, in the twinkling of an eye, "…Death is swallowed…. Death where is your victory?? Where is your sting??
What is the most important thing you KNOW?
Answer this statement….
"I know Jesus Christ is who He said He is because______________."
Jesus Was ALIVE at Point A
- BIRTH TO AGE 33
Jesus Was DEAD at Point B
- THE CROSS
1) All four
GOSPELS
report his crucifixion.
2) There are also FIVE ancient sources
OUTSIDE
the Bible
Jesus Was ALIVE AGAIN at Point C
-THE TOMB
I Cor. 15:6-8; "that he presented himself alive to Peter, then to his closest followers, and later to more than FIVE HUNDRED of his followers all at the same time, most of them still around … that he then spent time with James and the rest of those he commissioned to represent him; and that he finally presented himself alive to me…."

CRITICAL….INDESPUTIBLE FACT….
HE RESURRECTED!
Investigate the Truth
THE CASE FOR CHRIST SERMON SERIES #1
Acts 8:26-40 ● April 23, 2017
Spiritual STICKING POINT- an issue or OBSTACLE likely to cause a stalemate or IMPASSE.

Spiritual Sticking Point…
#1: I CAN'T Believe
Luke 19:10"
So START seeking WITH ALL YOUR HEART.
#2: I Don't WANT to Believe
Don't want radical LIFE CHANGE
COMPARE the costs and benefits of your current lifestyle with that of following Christ.
The fear of INTIMACY
AUTHORITY obstacle.
#3: I Don't Know WHAT to Believe
Study to determine what the writer ACTUALLY MEANT. Not what we WANT.
Focus on the CRITICAL CENTRAL MESSAGE of what you and I need to know it to say.
Focus on what you DO KNOW and RESPOND to it.
#4: I Do Believe; Isn't THAT ENOUGH?
John 1:12 "As many as RECEIVED HIM to them He gave the right to BECOME children of God, even to those who believe in His name".
Don't leave the gift UNCLAIMED and UNOPENED
BELIEVE + RECEIVE = BECOME.
Believe INTELLECTUALLY, and we must receive his FORGIVENESS and LEADERSHIP

Going deeper:
How did God speak to you thru this message?

Which sticking point kept you from accepting Christ? Growing in Christ?

Lifestyle change, fear of intimacy, authority which is your greatest struggle with God?
"Please Come In!" - Jesus
April 16, 2017
Door #1 – Kept people safe INSIDE
Door #2 – Saved people OUTSIDE
Door #3 – Celebration for a LIFETIME
Exodus 12:13…"But the blood will be a sign on the houses where you are. When I see the blood, I will PASS OVER you. Nothing terrible will hurt you."
Luke 24:1-3; They found the STONE rolled away from the tomb, but when they entered, they did not find the body of the Lord Jesus.
Revelation 4:1; "After these things I saw a DOOR standing open in heaven. I heard the first voice like a trumpet speaking to me. It said, "Come up here…"
Question #1 - How do I find the door of HEAVEN?
"Matt. 7:7; "Ask, and God will give to you. SEARCH, and you will find. Knock, and THE DOOR will open for you.
8 Yes, everyone who asks will receive. Everyone who searches will find. And everyone who knocks will have the door opened."
John 10:7; "So Jesus said again,
"I tell you the truth, I am the DOOR…Vs. 9- I am the DOOR, and the person who enters through Me will be saved.
Question #2 -
What happens BEHIND DOOR #3?
YOUR WEDDING RECEPTION!
"People will come from the east, west, north, and south, and will sit down AT THE TABLE in the Kingdom of God." Luke 13:29
Revelation 19:7 Let us rejoice and exult and give him the glory, for the MARRIAGE of the LAMB has come
Question #3 - Have you RSVP'd for the BANQUET?
NEW SERMON SERIES!
This series will bring us right to Resurrection Sunday! "Life is Good" is the slogan of a t-shirt company many of us have seen in the airport gift shops. It is also the theme of God's kingdom. "Life is good" when you experience His kingdom and the love of a good, good Father.
That's My King!
Zech. 9:9 ● April 9, 2017
Jesus is…
"See, your king comes to you,"
We lay out our HEARTS before Him
Throw down our WILLS in total SURRENDER
Ask Him to GOVERN EVERYTHING we think say and do
WORSHIP as our King We lay out our HEARTS before Him
"See, your king comes to you, righteous…"
1 Peter 2:22 "He committed
NO SIN
,
and
NO DECEIT
was found in his mouth
All his THOUGHTS WERE PURE all his WORDS WERE TRUE, and all his ACTIONS JUST.
Palm Sunday was LAMB selection day
He takes ALL MY SIN and makes me 100% RIGHT
Totally VICTORIOUS

See, your king comes to you, righteous and victorious"
He has made me victorious OVER SIN
In EVERYDAY LIVING
Over DEATH
Hosanna: a CRY OF DESPERATION- Save me, free me, I need a savior a SONG OF PRAISE you are the victorious, savior king
"See, your king comes to you … lowly."
Gentle- Humble, MEEK, mild, lowly, unassuming
What does the Lord require of you? …do justly, to love mercy, And to WALK HUMBLY with your God? Micah 6:8
He's our CARING FATHER
Phil. 4:5… Let your GENTLENESS be evident to ALL…
Going deeper:
Prioritize all four points. Which is the most important to you personally? Why?
What came out knew to you this Palm Sunday?
Which scripture touched you heart the most this morning?
What is the "take home" concept for you?
"Go Ahead….SAY IT!"
"Life Is Good"- Series #5
April 2, 2017

Is that all Jesus asks of us—to do "good" and walk away?
LIFE IS GOOD
see what Jesus SEES.
feel what Jesus FEELS.
do what Jesus would DO.
SAY WHAT JESUS WOULD SAY.
LEARN TO SAY IT THE "WAY" JESUS WOULD SAY IT.
Let our ACTIONS speak first. (John 3:1-2­)
"Is there something about my life that prompts people to want to know more?
"I know she/he comes from God, because no one has treated me with such kindness before; no one has accepted me or cared for me or served me like that before"?
The thing that will grab people's attention.., that will make them wonder "why", is an unexpected, undeserved, unconditional act of kindness.
ENGAGE people in REAL conversation.
John 3:3; "….
6
Human life comes from human parents, but SPIRITUAL LIFE comes from the Spirit."
Tell GOD'S story. (John 3:16-17)
Matt. 7:7; "ask and you will receive, seek and you will find, knock and the door will be opened.
GOING DEEPER:
Grab a cup of coffee this week with another "Christ follower" and share how you feel about the question, "Is that all Jesus asks of us—to do "good" and walk away?"

Describe in fuller detail what we know about Nicodemus. How might that make it more difficult for him to follow Jesus?

Write out a 'concise' paragraph explaining "GOD'S STORY" and read it through several times.

What is your greatest fear in 'SAYING' to someone what Jesus said to Nicodemus…"You must have new life in ME (Jesus)"?
What Can One Person Do?
"Life is Good" - Series #4
Mark 6:30-44 ● March 26, 2017
"How many loaves do you have?"…"Go and see." Mark 6:38
…He had
COMPASSION
on them,
APATHY – an absence of emotion. You see the need, but you DON'T CARE
SYMPATHY – a HARMONY of feeling. You know how they feel- you have felt that way too.
EMPATHY – an emotion that is stronger that sympathy. You HURT WITH THEM.
COMPASSION – "To be moved inwardly; to have tender mercy, affection & empathy." The deepest possible feelings. From "THE BOTTOM OF MY HEART." MOVED to meet a NEED
What do you have?
Give what YOU HAVE.
What you have is MORE THAN ENOUGH
It is a MIRACLE when you love and care LIKE JESUS.
Our Message: YOU MATTER.
"My intent is to impress upon people the
SHEER JOY
that comes from acts of kindness, especially to 'the least of these.'" Donna H.
The LORD'S PEOPLE are deeply loved by Jesus
And do not forget KINDNESS TO STRANGERS for by this, some who, while they were unaware, were worthy to receive Angels. Hebrews 13:2
STRANGERS are deeply loved by Jesus
I will GROW in Jesus thru the experience.
We will be TRANSFORMED more fully into Christ-like people
It keeps the church ALIVE and GROWING.
Ephesians 4:11-13
So Christ himself gave the apostles, the prophets, the evangelists, the pastors and teachers, 12 to EQUIP his people for WORKS OF SERVICE, so that the FULLNESS OF CHRIST may be built up 13 until we all reach unity in the faith and in the knowledge of the Son of God and become mature, attaining to the whole measure of the FULLNESS OF CHRIST.
Going deeper:
1. Make list of creative things you could do to bless a stranger and do one this week. What do you have?
2. Who will you give your Easter invite to?
3. Read the scriptures shared today slowing- marking your Bible, What have you learned.
No Strings Attached
John 4:46-53 ● March 19, 2017
"No strings attached"- the act of doing something without asking for
ANYTHING IN RETURN
.
Our salvation is
COMPLETELY
dependent on what
HE HAS DONE
. Our works don't add or take away from this is any way, shape, or form.
The Gift of Salvation MOTIVATES us to live for Him and LIFE IS GOOD!
Grace – the CAPACITY to do GOOD
1. SHOW what the kingdom looks like
ACTIONS speak louder than WORDS
We can't DEMAND people to HEAR
Be READY to give an ANSWER and an INVITE
1 Peter 3:15
… Always BE PREPARED to give an answer to everyone who asks you to give the reason FOR THE HOPE… But do this with GENTLENESS and RESPECT.
Gal. 6:9 Let us not become weary in DOING GOOD, for at the PROPER TIME we will reap a harvest if we do not GIVE UP.
2. Do good to the LEAST OF THESE
Mt. 25:40… whatever you did for one of the
LEAST OF THESE
brothers and sisters of mine, you did
FOR ME
.
'
"you did it TO ME." (NKJV)
3. IT'S NOT EASY doing good with no strings attached -But it makes life good
It's good for US.
It's good for OTHERS.
It's good for THE KINGDOM.
Mt. 5:16…that they may see your GOOD WORKS and GLORIFY YOUR FATHER in heaven
.
Going deeper:
1. What was the "one thing" that spoke to your heart from God's word?
2. Discuss this definition of Grace.
3. What good works of others showed you Jesus?
YOU CROSSED MY PATH
"LIFE IS GOOD" SERIES – #2
3-12-17
Psalm 37:23;
The
Lord
directs the steps of the godly. He delights in every DETAIL of their lives."
God is ORCHESTRATING your encounters!
Consequential STRANGERS" = personal connections other than family and close friends. Also known as "peripheral" or "weak" ties, they lie in the broad social territory between strangers and intimates.
THE "GOOD LIFE" FORMULA:
SIGHT + TIME + EFFORT + SACRIFICE – SELF = LIFE IS GOOD.
Jesus saw two things:
First, He
SAW
the man's
PROBLEM
.
Second, He saw the man's
POTENTIAL
.
NARCISSIM: "having an inflated sense of one's own importance, a deep need for admiration and a LACK of EMPATHY
Romans 12:3; "…don't think more highly of YOURSELF than you ought…"
Phil. 2:1-4; "Don't push YOUR way to the front; don't sweet-talk your way to the top. Put YOURSELF aside, and help others get ahead. Don't be obsessed with getting YOUR own advantage. Forget YOURSELVES long enough to lend a helping hand."
Doing good is not really about DEEDS; rather, it's about PEOPLE.
REMEMBER…everyone has a NAME and a STORY!
Our JOB is to help them cross paths with Jesus!
WHO ARE YOUR 'EVERY DAY PEOPLE'?
The Time Has Come
March 5, 2017 ● Mark 1:14-18
"The time has come… "The kingdom of God has come near." Mark 1:14
The Time Has Come to…
Experience THE GOOD LIFE – KINGDOM LIFE
Good –excellent, admirable, GENUINE, comforting, honorable, MORALLY GOOD, and noble
Turn- away from what YOU'RE DOING and embrace WHOLEHEARTEDLY what God is doing
Believe- ACT UPON something, to ENTER INTO
SURRENDER to HIS RULE in your life.
Let Jesus INTERRUPT

Invites you to BE WITH HIM
LEARN from Him
BECOME LIKE Him
DO GOOD, REST , REPEAT

From making a LIVING - to making a DIFFERENCE.
Peter-Your life is TOO SMALL
Does your life have a HOLE IN IT?
We are made to do GOOD
Jesus did GOOD
The world is LOOKING FOR IT

Going Deeper:
How does kingdom life differ from how this world views life?

What keeps you (people) from kingdom living?

How do you respond to the statement "We follow Jesus for others sake" ?
"One Minute After You Die"
2 Cor. 5:6-8
February 26, 2017
The question is, "What do you REALLY believe about HEAVEN?"
Cor. 5:6-8 "…It's what we trust in but don't yet see that keeps us going...
Life motto of a JESUS FOLLOWER: The BEST Is Yet To Come!
·HEAVEN IS A GENUINE PLACE!
Rev 21: 1-3 …" And I saw the holy city, the new Jerusalem, coming down out of heaven from God. It was prepared like a bride dressed for her husband…."
When we get there, we will be HOME!
Hebrews 11:13-16 "….They saw it (heaven) way off in the distance, … but they were after a far better country than that—heaven country…."
When we get there, we will be FREE
Rev. 21:4; "He will wipe away every tear from their eyes, and there will be no more death, sadness, crying, or pain, because all the old ways are gone.
·HEAVEN IS A GLORIOUS - SPACIOUS PLACE!
I Cor. 2:9-10; Rev. 21:12-27
IT'S NOT THE GOLD AND GEMSTONES THAT MAKE HEAVEN SPECIAL…IT'S HIS PRESENCE.
Rev. 21:3; "Now God's presence is with people, and he will live with them, and they will be his people. God himself will be with them and will be their God."
WHERE WILL YOU BE "ONE MINUTE AFTER YOU DIE"?
John 3:3; 2 Peter 3:11-13

Have you made preparations for heaven?

GOING DEEPER:
1) How does Hollywood's portrayal of heaven impact us today? (How accurate is it?)
2) Read Matt 7:13-14. Discuss the TWO ROADS as they relate to heaven.
FOUR BEST PLACES TO LIVE SERIES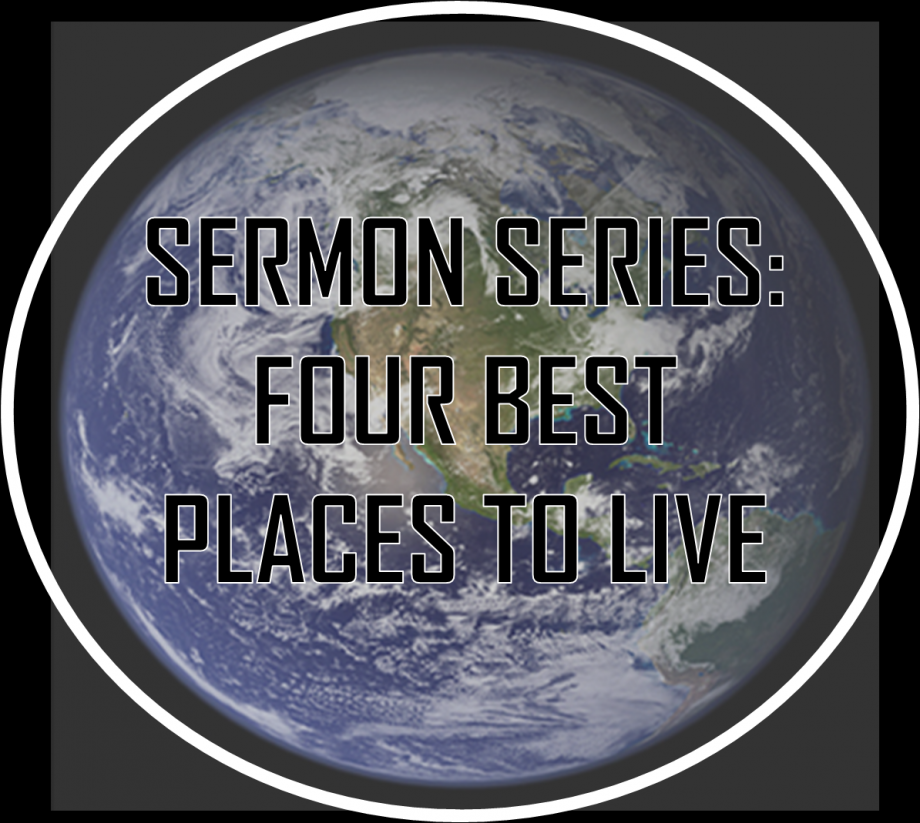 Where is the best place to live? Forbes & Money magazines come up with a new list every year. But what are the Bible's best places to live? What is God's criteria for a full and truly blessed life? Where can you experience the greatest joy, peace, and true riches? Now is the time to move spiritually to the land of real blessing.
"Living in the Power of Love"
Four Best Places to Live – Series #4
February 19, 2017
…if we love one another, God lives in us and his love is made complete in us. 1 John 4:12
The opposite of Love is SELFISHNESS.
The defining characteristic of GOD'S PRESENCE among His people.
Desiring the HIGHEST GOOD for others
It's a product of THE SPIRIT (Gal. 5:22 ,Romans 15:30)
It is from the heart, involves emotions but is primarily from the WILL. Love is a CHOICE.
Founded on GRATITUDE, the ATMOSPHERE of Christian life, The CLIMATE where the church grows
Living in the Power of love…
Shows God is IN US (1 John 4:12)
If we LOVE ONE ANOTHER
God Lives IN US
His love is PERFECTED in us
We pass from DEATH TO LIFE (1 John 3:14)
Makes us more LIKE JESUS
Becoming like Jesus takes a life time

It is DAILY
Not trying HARDER but under the influence of the HOLY SPIRIT (John 14: 15-17)
If you LOVE ME you will OBEY ME
Leads us on a MISSION (2 cor. 5:17-20)
* Compels- to grip tightly, confines us, LEAVES US NO OPTION
1.Don't live FOR YOURSELF
2.Look at no one from a HUMAN POINT OF VIEW
3.Live out the message: BECOME FRIENDS WITH GOD He's already friends with you.

Going Deeper:
1. Reread the key scriptures. What do they tell you to do?
2. Which of the six opening points speaks to you the deepest?
3. The power of love puts Him in us, transforms us and gives us a purpose. What can you to practically follow through with each step?
Living in the House of Expectancy
Luke 7:18-35 ● February 12, 2017
Need a Right View of REPENTANCE.
Repentance- HUMILITY and CONFESSION your life is not what God wanted to make of it. A FULL STOP, TURN AROUND, FULL TILT in a fresh direction toward God on His terms with his strength.
Romans 2:4 …God's KINDNESS is intended to lead you to repentance?
Expectancy-a renewal of HOPE and anticipation. Goodness can come from bad. Life can be RESSURECTED. The life you've ALWAYS WANTED.
The opposite of expectancy is EXPECTATION - I'm OWED, entitled, I DESERVE, I demand
EXPECTANCY àKindness of GodàREPENTANCEàRight Relationship with God
Turn YOUR EXPECTATION back to Expectancy.
Expectation- DICTATES terms. It sets CONDITIONS. It insists that the future look a CERTAIN WAY.
Luke 7:20-"John the Baptist sent us to you to ask…" should we EXPECT someone else?'
Expectancy- ALL THINGS work together for my GOOD
Romans 8:18-19
For creation WAITS EAGERLY for the children of God to be revealed.
Eager expectation- EDGE-OF-THE-SEAT anticipation
Mt. 20: 10 So when those came who were hired first, they EXPECTED to receive more
TO ASSUME: To feel ENTITLED, To feel owed.
In your pain FIND JESUS
I must DECREASE and JESUS must increase
Pain= GROWTH when you add JESUS
"THE LIFESTYLE OF THE RICH AND PRAYERFUL"
……Living in prayer!
"FOUR BEST PLACES TO LIVE" – Series #2
February 5, 2017

Pay attention to GOD in the "ORDINARINESS" and "DAILYNESS" of life.
Prayer: paying ATTENTION to God.
We learn the secret of praying without CEASING- (I Thess. 5:16)
"Prayer VISITORS" and "Prayer OCCUPIERS" live very differently!
OCCUPIERS SEEK HIS FACE WITH THEIR FACE!
The contrast between "religion" (being a 'religious person') and one who has a "relationship" with God is your PRAYER life.
What is a "House of Prayer?"
3.YOU are personally a 'HOUSE of Prayer'.
YOU are a 'walking TEMPLE'.
4.The CHURCH is a House of Prayer.
The Rich and Prayerful leave a TRAIL!

A trail of SELFLESSNESS!
A trail of MIRACLES!
A trail of CHALLENGES and triumphs!

6. The Rich and Prayerful expose the THEIF!!

GOING DEEPER:
Share with someone how God has surprised you?

Read Psalm 81. What does God promise if we LISTEN and FOLLOW Him?

If prayer is "attentiveness to God", how might that change your "ordinary" day?
"Living in Worship"Four Best Places to Live – Series #1
James 4:8 ● January 29, 2017
Worship- Proclaiming
WHO GOD IS,
OUR LOVE
for Him and we
DRAW CLOSE
to the place where He is.
Worship Requires us to BE WHERE JESUS IS
Jer.31:34 …" for they will ALL KNOW ME, from the least of them to the greatest of them," declares the LORD, "for I will forgive their iniquity, and their sin I will remember no more."
James 4:8 COME CLOSE to God [with a contrite heart] and HE WILL come close to you.
Ps. 51:17 The sacrifices of God are… a broken and
CONTRITE HEART
--these, O God, You will not despise.
Let worship CHANGE YOU
2 Sam. 6:21-22…I will CELEBRATE before the Lord. 22 I will become even more undignified than this, and I will be HUMILIATED in my own eyes.
John 3:30 He MUST increase, but I MUST decrease.
We are… what we LOVE. Augustine
Ps. 84:10
BETTER IS ONE DAY
in your courts than a thousand elsewhere;
GIVE YOUR HEART to worship
SURRENDER- I GIVE IT UP
LORDSHIP- You're in CONTROL
HOLY SPIRIT - LEAD me and EMPOWER me
Going Deeper:
What's the difference between just worshipping on Sunday and living in worship?
What do you need to do to come close to God?
What are the benefits of living in worship?
"SEARCH AND RESCUE"
JESUS CULTURE -#6
Nov. 13, 2016

IN THE 'JESUS CULTURE' EVERYBODY MATTERS
.
YOU
are part of a SEARCH & RESUCE Team!!
TWO PERSPECTIVES:
1) The
FOLLOWER
:
One who struggles in their heart to have an 'AWARENESS' and 'DESIRE' for sinners to be found…
To SEARCH and RESCUE them…
To sincerely WELCOME and CELEBRATE them when they are found…
To intentionally be INCLUSIVE when adding them to the Family of God!
2) The
LOST
:
One needing to be 'SOUGHT AFTER' and 'FOUND'.
SEARCH & RESCUE takes COMPASSION!
SEARCH and RESCUE takes EFFORT!
a significant part of our PRAYERS should be for the lost.
'ENGAGE' the lost
unashamedly SHARE that Jesus can rescue them
SEARCH and RESCUE takes PERSISTENCE!
Vs 4; "go out and look for the lost sheep UNTIL he finds it"
Vs. 8; "Look carefully for the coin UNTIL she finds it"
FULL of GRACE and TRUTH!
John 1:14-17 ● November 6, 2016

We have seen his glory,… full of grace and truth. John 1:14
He called sin, "SIN"—and then he PAID FOR IT.
The Jesus Culture- EMBRACES grace and truth and REFUSES to let go of either.
1. MATURE IN GRACE
By having eternal GRATITUDE
Being HUMBLE
"Humility isn't PRETENDING that we're unworthy because it's the spiritual thing to do; it's recognizing that we're unworthy because it's TRUE."
2. INCREASE IN TRUTH
Truth is God's GRACIOUS GUARDRAIL keeping us from going over life's edge.
Truth requires a RESPONSE.
Truth is not determined by what WE WANT to believe
John 17:17 Sanctify them by the truth; your word is TRUTH.
Word-Logos-divine COMMUNICATION, revelation, INSTRUCTION
3. LIVE IN THE TENSION OF GRACE AND TRUTH
Truth without grace leads to LEGALISM. (Woman caught in adultery John 8:1-12)
Truth-sin always HURTS YOU- Grace- Jesus always LOVES and FORGIVES you if you ask.
One with the absence of the other is TOXIC
Truth without grace CRUSHES people and it ceases to be truth. (Levi a disciple?? Mark 2:13-17)
Grace without truth DECEIVES people and ceases to be grace.
Going Deeper:
What is your natural propensity "Grace" or "Truth"?
How have you experienced grace and truth?
How did Jesus live in grace and truth with the Samaritan Woman? (John 4:7-26)
How can you give out Grace and truth?
"DON'T SETTLE FOR 'CHRISTIAN'!"
JESUS CULTURE' - #4
Oct. 30, 2016

MATTHEW 5:13-16
: The Message
Matt. 5:13&14 "
YOU ARE
the salt of the earth. …..
14
"
YOU ARE
the light ….."
What does SALT do?
It PRESERVES.
It FLAVORS.
It creates THIRST.
It HEALS.
What does LIGHT do?
It banishes DARKNESS.
It EXPOSES.
It WARNS.
It WAKES us up.
STAY SALTY.
Stay in close contact with the ULTIMATE influence - CHRIST Himself
KEEP your light on. Make your WORKS visible.
"A city on a hill cannot be hidden" (Matt. 5:14 NIV)
Check your "heart MOTIVE." (Glory to self or to God?)
Going Deeper:
1. How did the Christ followers in the Book of Acts embrace the words of Jesus and change the world?
2. How much potential for the same kind of change do you see in our world today?
We Love to Judge!
Mt. 7:1-5 ● October 23, 2016
… first take the plank out of your own eye, and then you will see clearly… Mt. 7:5
All of us JUDGE-
Yet JESUS SAID do not judge
"It is the Holy Spirit's job to CONVICT, God's job to JUDGE and my job to LOVE." - Billy Graham
John 12:47 …For I did not come to JUDGE the world, but to save the world.
Jesus followers are called not to be JUDGEMENTAL
Psalm 119:66 Teach me knowledge and GOOD JUDGEMENT. . .
Judgmental
A spirit of FAULTFINDING , being CRITICAL
Taking the role of SUPREME JUDGE
1 Cor. 5:12 What business is it of mine to judge those OUTSIDE THE CHURCH
The focus of a Christ follower
Is THEIR OWN HEART
Correction that VALUES
NOT QUICK to Judge-
Done in TOTAL LOVE
Comes with HELP and CARE
Focuses ON HOPE and a GREAT FUTURE
The only effective way to reach others is to WIN THEM
Remember You have been FORGIVEN MUCH So give out GRACE and FORGIVENESS
judgmental folks DON'T LOVE MUCH
I realize I am JUST LIKE most of them.
JOHN
5:24
"Very truly I tell you, whoever hears my word and believes him who sent me has eternal life and will
NOT BE JUDGED
but has crossed over from death to life.
Did you feel judged by Christians before you came to Christ?
What are actions and attitudes that make nonbelievers feel coerced or judged?
How can you leverage love to win people like Paul?
How do you feel when you think about being" forgiven much"?
'Christian'…it may not be what you think!
JESUS CULTURE SERIES -2
10-16-16
Realize nothing is LOUDER than LOVE.
It's totally silent but the LOUDEST thing on earth.
1) CONTINUE to love
….
1 John 4:7-10; "My beloved friends, let us CONTINUE TO LOVE each other…
There's a temptation to STOP!
Continue: "PERSISTENT"; "RELENTLESS", "UNINTERRUPTED"
2) IT COMES FROM GOD.
1 John 4:7-10; " My beloved friends, let us continue to love each other since
LOVE comes from GOD
.
TAKE A DEEP BREATH…..YOU do not have the capacity to love.
3) The person who REFUSES to love, doesn't get the first thing about GOD.
1 John 4:7-10;The person who
refuses to love doesn't know the first thing about God
,
IT'S A CHOICE.
Faces of "refusal to love":
*
AVOIDANCE
*
ANTAGONITSTIC
*Silently
JUDGMENTAL
*
SELF-CENTERED
….because God is love—so you can't know him if you don't love."
IT'S ALL ABOUT GETTING TO KNOW GOD!
4) What KIND of love is this?
THIS is the kind of LOVE we are talking about
—…..
He SENT his Son as a SACRIFICE !
WHY did GOD love like THAT?
….to
CLEAR AWAY
our SINS and the DAMAGE
they've done to our relationship with God."
WHAT IS BEING ASKED OF ME???
Philippians 2:3 …., but in HUMILITY count others more SIGNIFICANT than yourselves
Romans 12:10; "Be DEVOTED to one another in brotherly LOVE. Outdo yourselves in LOVING one another."
NOTHING IS LOUDER THAN LOVE!
GOING DEEPER:
1) In your own spiritual journey, how have you grown in experiencing and understanding more of God's love?
2) In what ways have you felt overwhelmed by God's love for you?
"WHAT IS A 'CHRISTIAN'?"
… The disciples were called Christians first at Antioch
Acts 11:26 ● October 9, 2016
Are you a DISCIPLE? (Acts 11:26)
STUDENT, learner, apprentice, FOLLOWER.
Their answer is ALWAYS YES
DISCIPLE is synonymous with FOLLOWER
Luke 9:23 Whoever wants to be my DISCIPLE must deny themselves and take up their cross daily and FOLLOW me.
LOVE EACH OTHER as I have LOVED YOU! (John 13:33-34)
SACRIFICIALLY
UNDERSTANDINGLY
FORGIVINGLY
How well do I Love?
FAMILY
CHURCH FAMILY
OTHER Believers
NON - Followers
Eph. 3: 17 I pray that out of his glorious riches he may strengthen you with power through his Spirit in your inner being, 17 so that CHRIST MAY DWELL IN YOUR HEARTS through faith… being rooted and established IN LOVE. 18 may have power, together with all the Lord's holy people, to grasp how wide and long and high and deep is the LOVE of Christ, 19 …—that you may be filled to the measure of all the fullness of God.
Deeper this week:
Try it this week- Loving each other with Christ's strength this week.
What does being a disciple mean to you?
Are you comfortable thinking of yourself as a disciple?
What are the main Characteristics of a disciple?
What will loving each other as a 1st priority look like